In the realm of jewellery, beauty and craftsmanship are highly valued. However, beneath the surface of some pieces lies a hidden danger that often goes unnoticed by unsuspecting sellers of scrap gold – cadmium. This toxic heavy metal has been found in scrap gold jewellery, posing potential risks to both wearers and the environment. In this blog post, we will delve into the significance of cadmium in scrap gold jewellery, explore its health hazards, discuss regulatory measures and provide essential tips for consumer awareness and protection.
Understanding Cadmium and its Relevance in Jewellery
Cadmium, a naturally occurring heavy metal, is an element commonly found in the Earth's crust. Its unique properties make it an attractive choice for jewellery, as it can create vibrant and captivating colours. However, it is important to be aware of the risks associated with cadmium, as its toxicity can be harmful to both human health and the environment.
Cadmium in Jewellery
Cadmium finds its way into jewellery through various manufacturing processes and improper recycling techniques. It is commonly present in low-cost jewellery pieces, including those made from scrap gold. Sellers of scrap gold need to be cautious about the potential presence of cadmium in their items.
Health Hazards Associated with Cadmium
Exposure to cadmium in jewellery poses significant health risks, particularly when it comes to pieces worn on a daily basis. Understanding these risks is crucial for both consumers and industry professionals.
Respiratory Problems:
Inhalation of cadmium fumes or dust particles can lead to lung irritation, chronic bronchitis, and even lung cancer. Jewellers and manufacturers must take necessary precautions to prevent the release of cadmium during production processes.
Kidney Damage:
Prolonged exposure to cadmium can impair kidney function and increase the risk of kidney disease. Individuals wearing cadmium-containing jewellery are susceptible to cadmium absorption through the skin, further emphasising the importance of avoiding prolonged contact.
Carcinogenic Effects:
Cadmium is classified as a human carcinogen, with potential links to various types of cancer, including lung, prostate, and kidney cancer. Minimising cadmium exposure is crucial to reduce the risk of developing cancer.
Regulatory Measures and Industry Initiatives in the UK
To protect consumers and promote responsible practices, the UK has implemented regulations and standards that restrict the use of cadmium in jewellery. Additionally, industry stakeholders have taken initiatives to address this issue and ensure compliance with the regulations.
Current Regulations
The UK follows stringent regulations and standards to safeguard consumers from the potential harm caused by cadmium exposure. These regulations set legal limits and restrictions on the use of cadmium in jewellery, promoting a safer market. From 2011 the regulation restricts cadmium content in new jewellery to 0.01 per cent (100 mg/kg) by weight of metal.
REACH Regulation
Under the Registration, Evaluation, Authorization, and Restriction of Chemicals (REACH) regulations, certain hazardous substances, including cadmium, are restricted in various consumer products, including jewellery. These regulations establish concentration limits of cadmium in jewellery items to protect human health and the environment.
Nickel Directive
The UK follows the European Union's Nickel Directive (2004/96/EC), which regulates the release of nickel and other allergenic substances from jewellery. This directive includes specific restrictions on the use of cadmium in jewellery, especially in items that come into direct and prolonged contact with the skin.
British Hallmarking Council
The British Hallmarking Council oversees the hallmarking system in the UK, ensuring that precious metal items, including jewellery, meet legal standards. By adhering to specific regulations, the council helps prevent the use of cadmium beyond safe limits in jewellery pieces.
British Standard BS EN 1811
The British Standard BS EN 1811 specifies requirements and test methods for jewellery that comes into direct and prolonged contact with the skin. It includes limits on the release of certain substances, including cadmium, in order to minimise the risk of sensitisation and allergic reactions among wearers.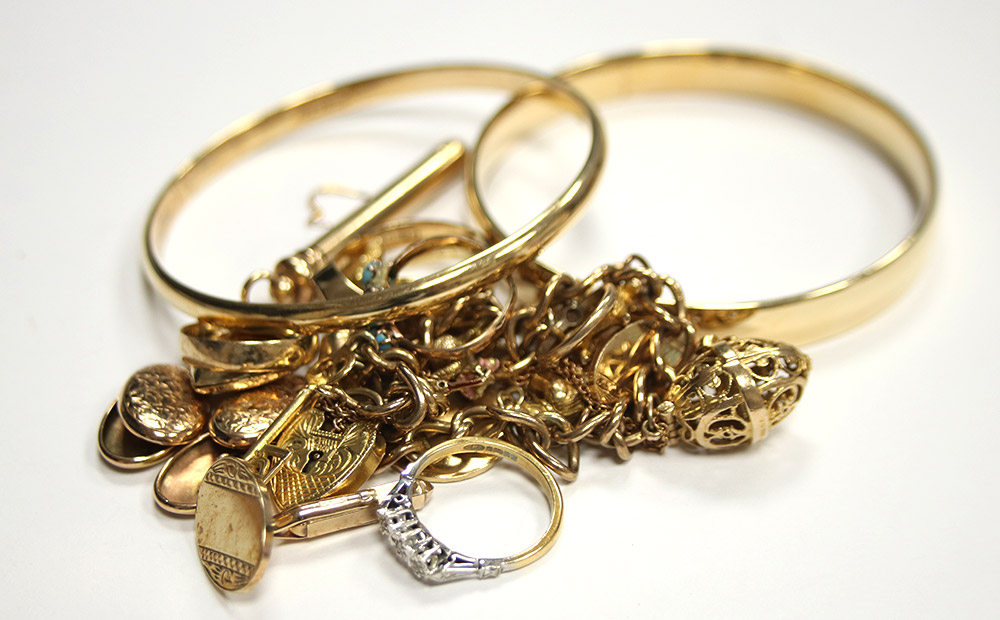 Environmental-Friendly Recycling
Proper recycling of scrap gold jewellery is essential to prevent the contamination of the environment with cadmium and other toxic substances. Industry initiatives promote environmentally friendly recycling practices that aim to minimise the release of cadmium during the recycling process. Consumers are encouraged to utilise designated disposal channels and recycle their unwanted or damaged jewellery through responsible recycling methods.
Cash For Your Gold's Commitment
At Cash For Your Gold, we prioritise your safety and the safety of staff at our processing partners by restricting cadmium levels in scrap that we purchase to 1%. We do not purchase scrap precious metals that have in excess of 1% cadmium for two primary reasons:
1.Health Protection: We understand the potential risks associated with cadmium exposure and strive to ensure the well-being of our customers. By not accepting scrap precious metal with cadmium, we contribute to minimising the risks of health issues that cadmium can pose.
2. Compliance with Regulations: As responsible buyers, we strictly follow the regulations and standards set by the UK government. By refraining from purchasing scrap precious metal containing higher levels of cadmium, we uphold these regulations and contribute to a safer and more transparent marketplace.
In conclusion, being aware of the presence of cadmium in scrap gold jewellery is crucial for sellers in the UK. Understanding the health hazards, regulatory measures, and industry initiatives surrounding cadmium empowers sellers to make informed decisions, ensuring their well-being and the protection of the environment.